Organisation news
02.04.2019
The Red Nose Day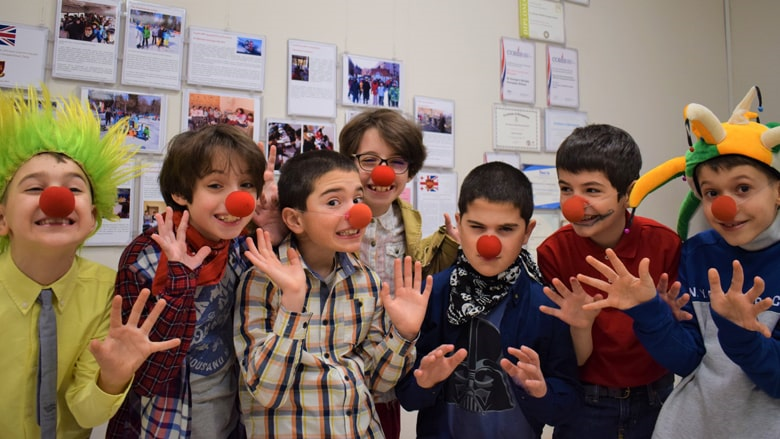 As you may already know, many fun and useful activities have become a tradition in our school and many of them are part of British school culture, which were introduced to BGS by our Emeritus Head Dr. Christopher Greenfield. On March 18, Dr. Greenfield initiated a rally - The Red Nose Day. Students had a chance to come to school with Red Noses or dressed up, in case they paid the "fine" for not wearing the school uniform. With the collected money we helped children with leukemia.
We raised up to 1,000 Laris! Parents, thank you very much for your support and special thanks to our junior students for being so actively engaged.
02.04.2019
Teacher Seminar in Sairme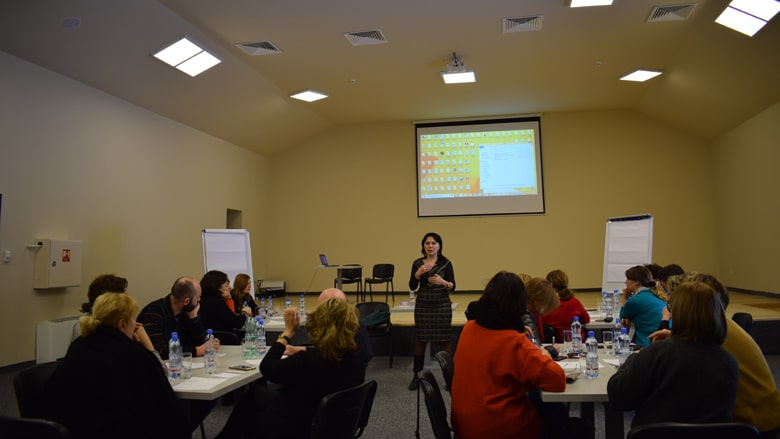 It has been three years already that BGS is conducting two-day seminars for teachers, usually held outside Tbilisi. This time, 2 and 3 March were simultaneously busy and fun. The two-day seminar (trainer-moderator Mrs. Lali Berishvili) was held in the conference hall of "Best Western Sairme Resort" hotel in Sairme; the main topic of the seminar was "From assignments to initiatives" and it covered many interesting and useful topics, such as:
"Importance of project based learning";
"Strategies for using video resources";
"Characteristics of an effective teacher";
"Corporate culture – strengths and weaknesses of our school culture";
Past activities, planned and performed by teachers were analyzed and future plans were made. All agreed that the seminar was presented in a productive and original format.
On the way back to Tbilisi, teachers visited the Prometheus Cave. Such trips are very important for staff professional development and team building, which then leads to a successful school.
02.04.2019
Open Day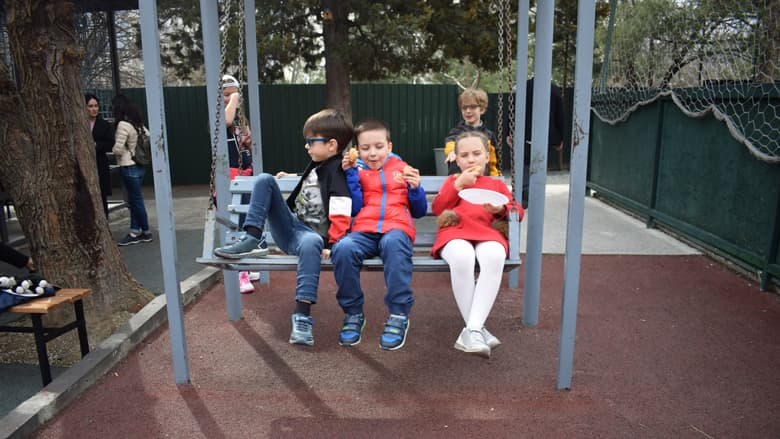 On March 16, an open day was held at BGS for prospective parents and children.
The guests were hosted by our student volunteers and members of the administration.
For parents, a general presentation about school was held, as for children there were activities in our art studio and sport games on our stadium; prospective grade 1 students also met with their prospective form teacher. At the end, all guests had a chance to taste BGS breakfast.
We hope that guests enjoyed the visit. We would like to thank everyone who was involved in organizing the event, and especially our volunteer students.
25.02.2019
Bakuriani 2019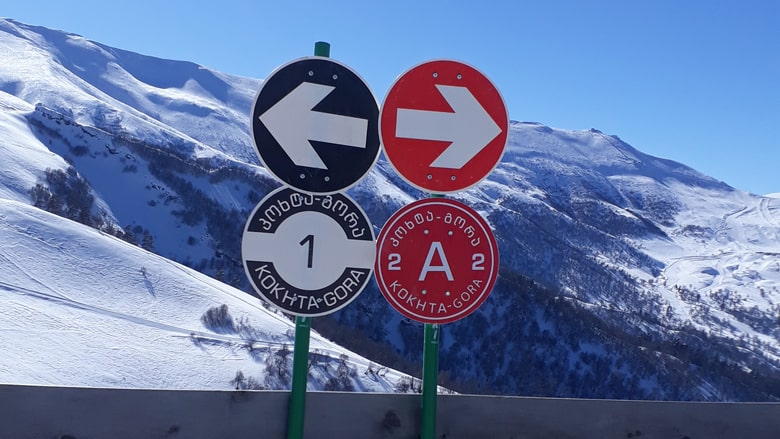 From February 2 to February 16, two groups of BGS students were hosted by Nanikebi, snow club in Bakuriani.
School administration organized the trip with a condition that students would be doing homework while also skiing and spending time together in Bakuriani.
Students managed to keep their promises and worked on their academic studies every day.
Academic holidays turned out to be fun and memorable for participants.
Thank you to our wonderful hosts for love and care!
25.02.2019
Our new friend Tsotne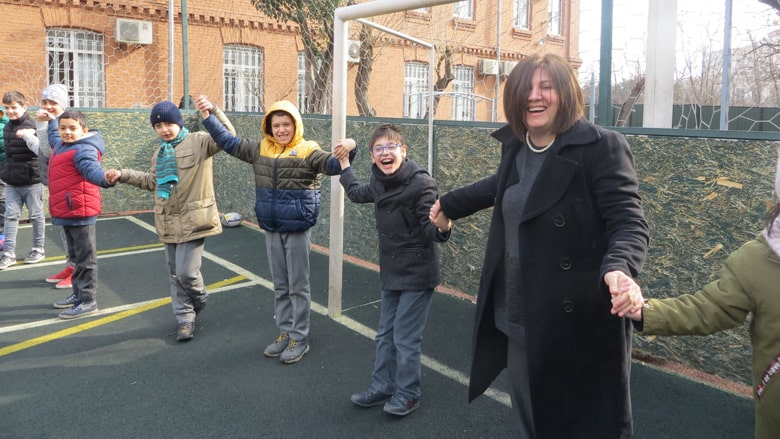 On February 14th, our new friend, 10 years old Tsotne Mokutishvili visited the school.
He attended art and ceramic lesson with grade 4 and took part in playground games with junior students.
He seemed to have a lot of fun.
"I was shocked with the love expressed toward Tsotne in a day, in an hour" – said Mr. George Mikutishvili.
We thank all students for their heartfelt hospitality.
11.02.2019
Safer Internet Day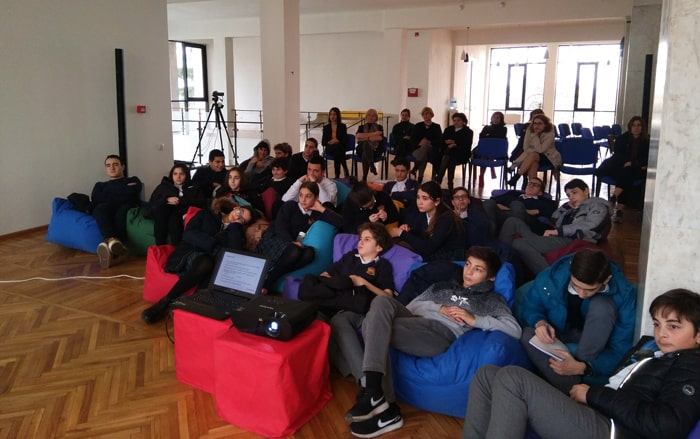 On February 5, our senior students attended a very interesting and crucial training - "Cyber Security and Control Mechanisms" at the National Science Library.

The main goal of such activities is to teach us how to recognize when we are dealing with internet fraud and how to stay safe online.
05.02.2019
Caucasus University Presentation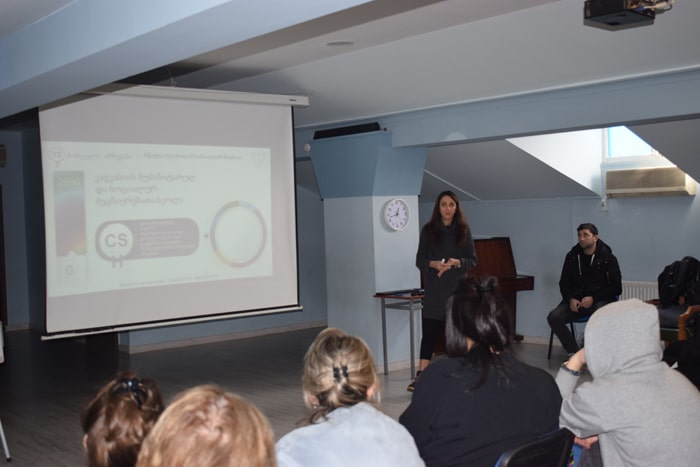 Representatives of Caucasus University visited BGS senior students by the end of January and made an informational presentation.
They spoke to students about their programmes and student life at CU.
05.02.2019
Pediatrician visiting the assembly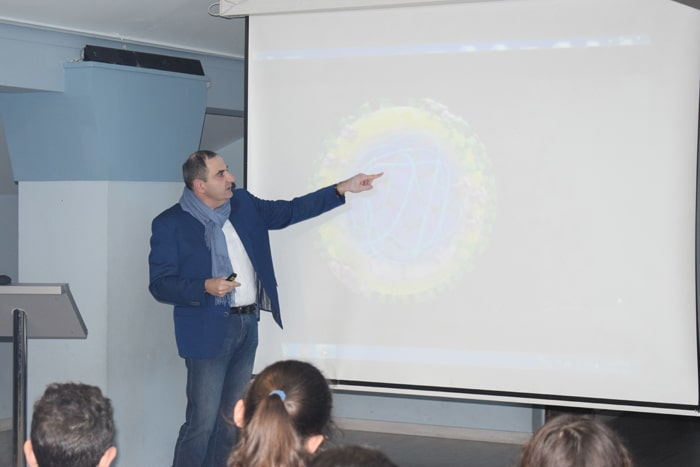 Our parent, famous pediatrician, Temur Mikeladze talked to students at junior and junior high assemblies about the ways of avoiding flu, virus spread and disease and gave them practical advice.
18.01.2019
BGS intellect club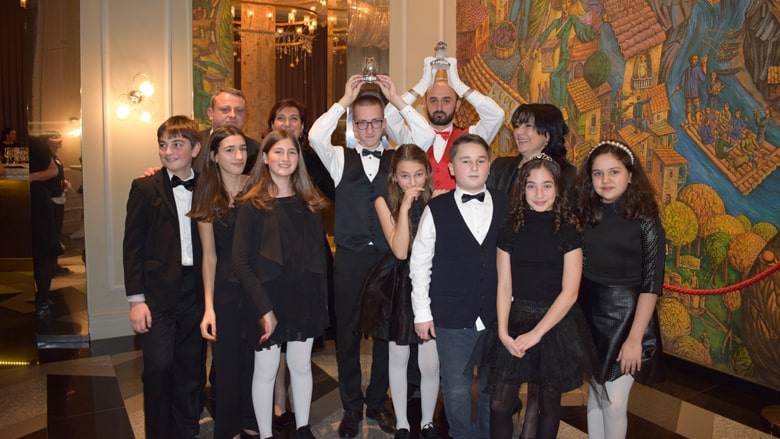 On December 29, in the restaurant "Funicular", BGS intellect club held "What? Where? When?" game finale.
Two teams of different age groups participated in the game and competed against teachers.
Congratulations to junior high team! And good luck to senior team!
20.12.2018
Grade 2 and 3 goes to cytogenetic lab "Genesis"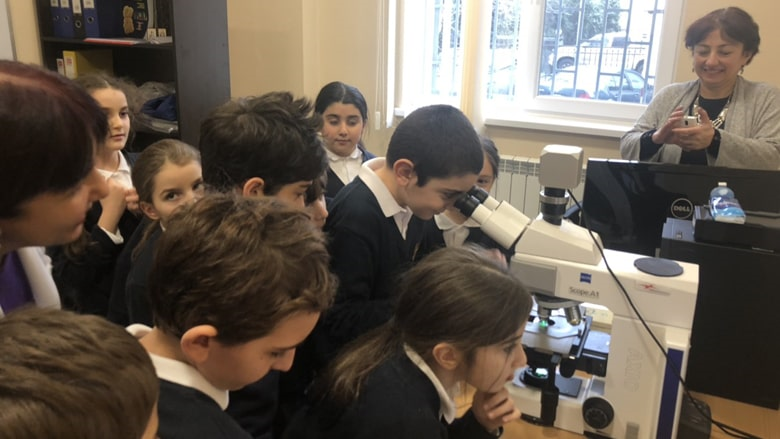 By the initiative of our school parent Tinatin Tkemaladze, Grade II and III students visited the cytogenetic laboratory "Genesis".
They were given a cognitive report on chromosomes and genes, and then children were able to get acquainted with how the laboratory works, looking into the microscope and see human chromosomes with their own eyes.
In the course of the semester, such activity will also be introduced for senior students as well.