Organisation news
13.05.2019
May 6 Charity Fair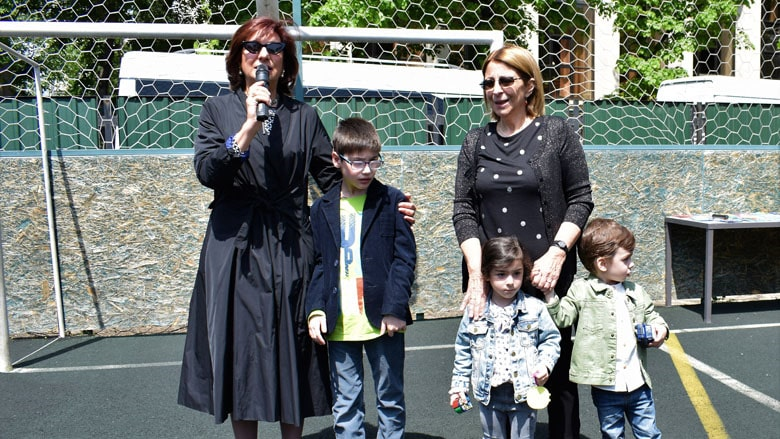 It's been 7 year already, that a charity fair is being held in our school in May, on St. George's day.
This is very special, fun and useful day for BGS, and the whole school participates in it.
We are helping our little friend Tsotne Mikutishvili. Tsotne is a very talented young artist who creates great paintings.
This day is traditionally dedicated to the memory of our student Nika Meskhi and Nika's parents and friends are also participating in this event annually.
We would like to thank the volunteer participants of the fair: Zaliko Sulakauri, Illusionist Grizzl, Nukha Chivadze (facial painting), Ms. Ketevan Ghoghoberidze and of course all BGS members and generous parents.
03.05.2019
Charity Fair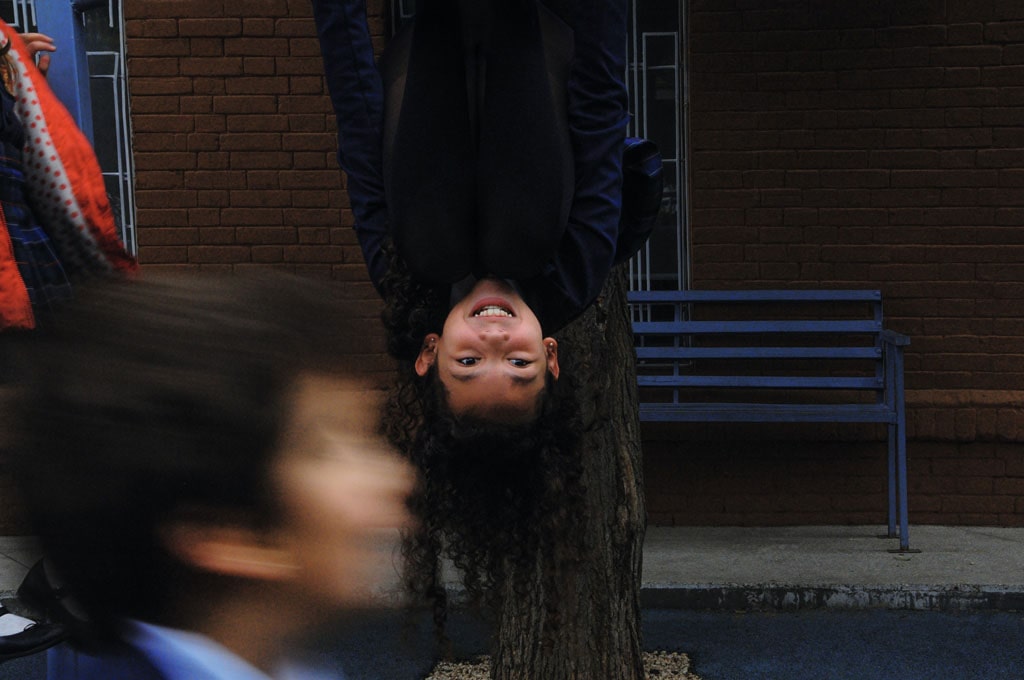 Join us on our charity fair.
Traditionally, the event will be dedicated to the memory of Nika Meskhi.
The donated money will be used to help our friend Tsotne.
Artworks of our students will be on sale.
We'll also have fun activities. Come with children.
03.05.2019
The Headmistress writes…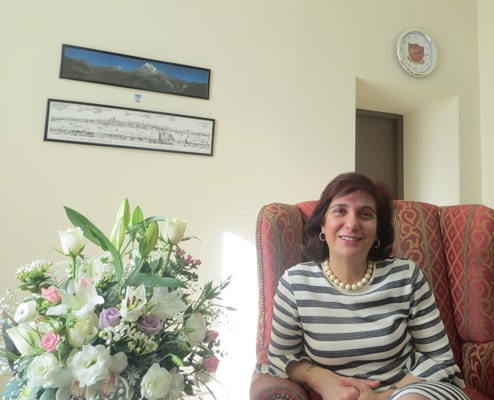 Happy Easter!!!
Lots of good events took place in BGS in April. . .
We received the results of the PTE (Pearson Test of English) of grade 3 and 7 students from England, which were pretty high! Congratulations to our students and their teachers with successful results.
Juniors had their spring semester presentations in forms of projects for the first time this year. Each grade presented their projects on different topics and in different forms to parents.
April is the month of Georgian Language. BGS art studio created a large ceramic plate of 14 alphabets of the world. All juniors participated in creating it. We would like to thank Mrs. Nino Tsitsishvili and Mrs. Khatuna Pipia for organizing this project.
With spring, the number of outing activities increased. . . Continue reading and learn all about these events in this newsletter.
03.05.2019
Georgian Language Day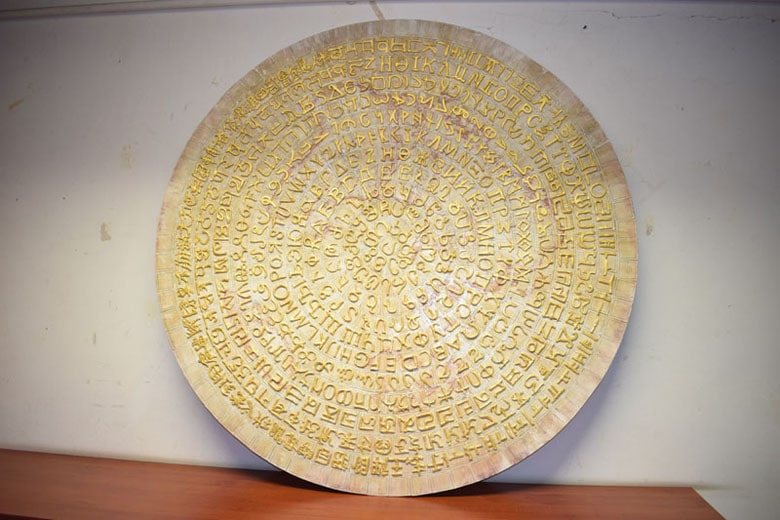 BGS members are always celebrating April 14 with special events.
The educational process is full of various activities dedicated to this day.
Throughout the year, all junior level students participated in a special project - "Alphabet Disco".
The vast ceramic plate depicts the most common alphabet systems of the world:
Georgian
Armenian
Russian
Greek
Latin
Anglo-Saxon
Arabic
Ivrit
Assyrian
Ethiopic
Mongolian
Sanskrit
Korean
Chinese
We would like to thank the authors of the project: Mrs. Nino Tsitsishvili and Mrs. Khatuna Pipia.
03.05.2019
In Chocolate Museum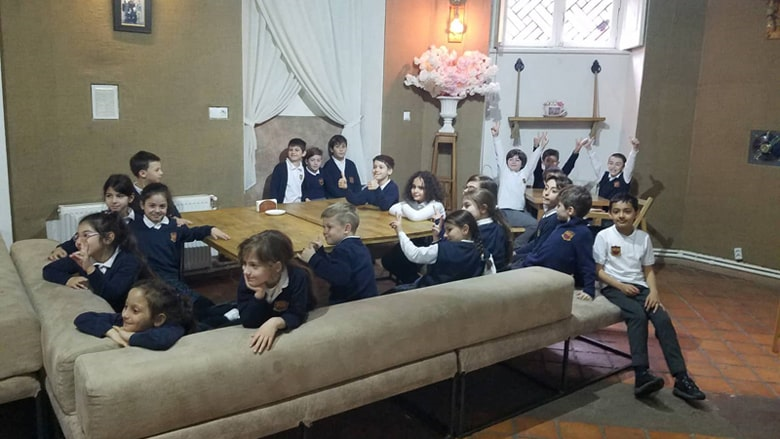 Grade 2 students visited the Chocolate Museum, a very cozy and friendly place.
They listened to interesting information about how chocolate was created, looked at a variety of rare collections, and also tasted natural, hot chocolate.
03.05.2019
In the footsteps of Georgian manuscripts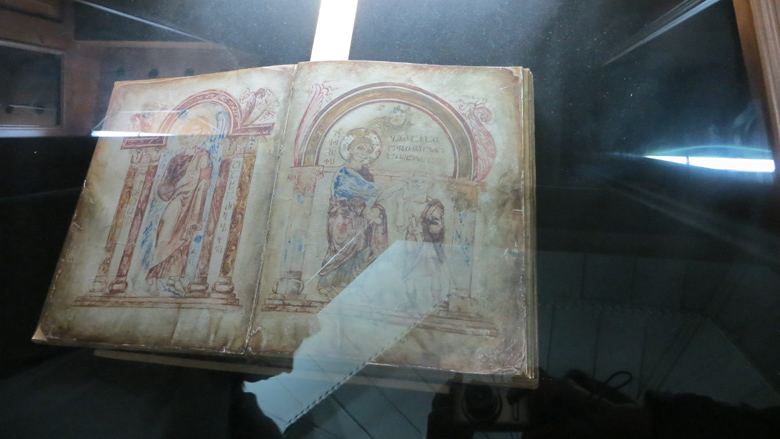 They saw manuscripts that they learned about in school; these were three manuscripts from Shatberdi, as well as original manuscripts of Sulkhan-Saba Orbeliani's "Travel in Europe", "The Knight in the Panther's Skin" and a Diploma of King Erekle.
03.05.2019
Fun Sports Lessons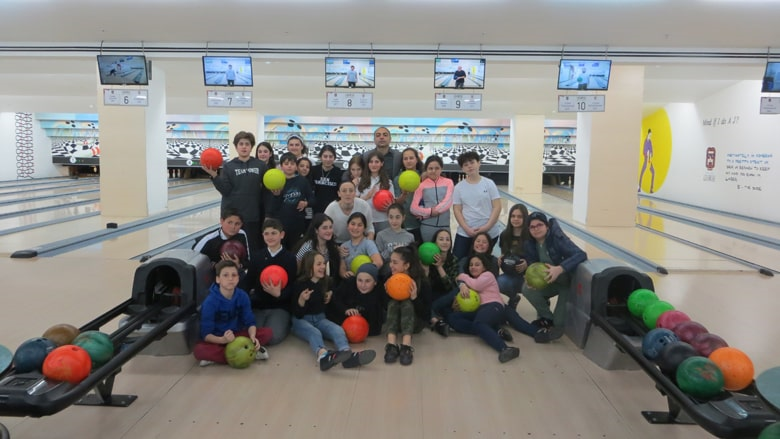 Our senior students had their sports lesson in the East Point Bowling Club. Students had a lot of fun. Students who have earned high scores will participate in the bowling spring tournament. The guests were awarded with the vouchers of the Bowling Club.
Thank you very much for this initiative Nicholas Acharadze's parent - Ms. Nino Todadze.
Parents' involvement is very important for active school life.
03.05.2019
Письмо моему абхазскому ровеснику!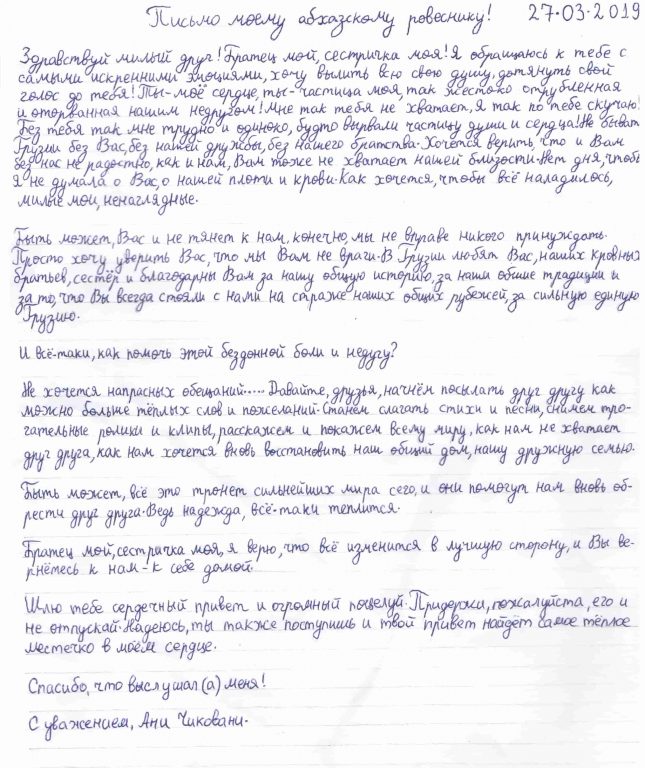 Здравствуй милый друг!
Братец мой, сестричка моя! Я обращаюсь к тебе с самыми искренними эмоциями, хочу вылить всю свою душу, дотянуть свой голос до тебя! Ты –моё сердце, ты –частица моя, так жестоко отрубленная и оторванная нашим недругом! Мне так тебя не хватает, Я так по тебе скучаю! Без тебя так мне трудно и одиноко, будто вырвали частицу души и сердца! Не бывать Грузии без Вас, без нашей дружбы, без нашего братства. Хочется верить, что и Вам без нас не радостно, как и нам, Вам тоже не хватает нашей близости. Нет дня, чтобы я не думала о Вас, о нашей плоти и крови. Как хочется, чтобы всё наладилось, милые мои, ненаглядные.
Быть может, Вас и не тянет к нам, конечно, мы не вправе никого принуждать. Просто хочу уверить Вас, что мы Вам не враги. В Грузии любят Вас, наших кровных братьев, сестёр и благодарны Вам за нашу общую историю, за наши общие традиции и за то, что Вы всегда стояли с нами на страже наших общих рубежей, за сильную единую Грузию.
И всё-таки, как помочь этой бездонной боли и недугу?
Не хочется напрасных обещаний..... Давайте, друзья, начнём посылать друг другу как можно больше тёплых слов и пожеланий. Станем слагать стихи и песни, снимем трогательные ролики и клипы, расскажем и покажем всему миру, как нам не хватает друг друга, как нам хочется вновь восстановить наш общий дом, нашу дружную семью.
Быть может, всё это тронет сильнейших мира сего, и они помогут нам вновь обрести друг друга. Ведь надежда, всё-таки теплится.
Братец мой, сестричка моя, я верю, что всё изменится в лучшую сторону, и Вы вернётесь к нам -- к себе домой.
Шлю тебе сердечный привет и огромный поцелуй. Придержи, пожалуйста, его и не отпускай. Надеюсь, ты также поступишь и твой привет найдёт самое тёплое местечко в моём сердце.
Спасибо, что выслушал(а) меня!
С уважением, Ани Чиковани.
02.04.2019
The Red Nose Day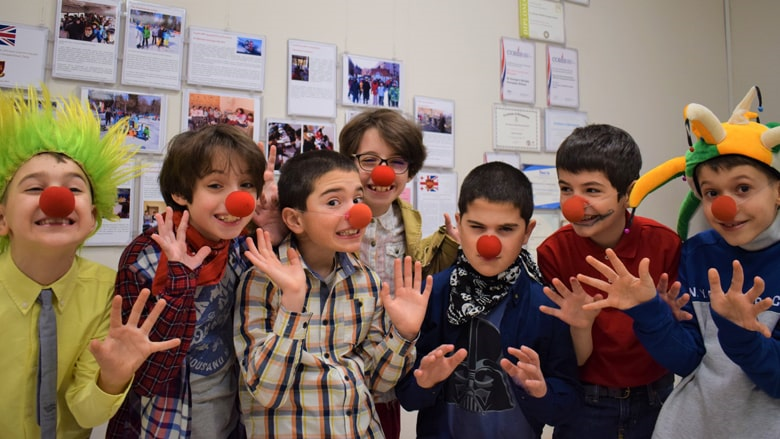 As you may already know, many fun and useful activities have become a tradition in our school and many of them are part of British school culture, which were introduced to BGS by our Emeritus Head Dr. Christopher Greenfield. On March 18, Dr. Greenfield initiated a rally - The Red Nose Day. Students had a chance to come to school with Red Noses or dressed up, in case they paid the "fine" for not wearing the school uniform. With the collected money we helped children with leukemia.
We raised up to 1,000 Laris! Parents, thank you very much for your support and special thanks to our junior students for being so actively engaged.
02.04.2019
Teacher Seminar in Sairme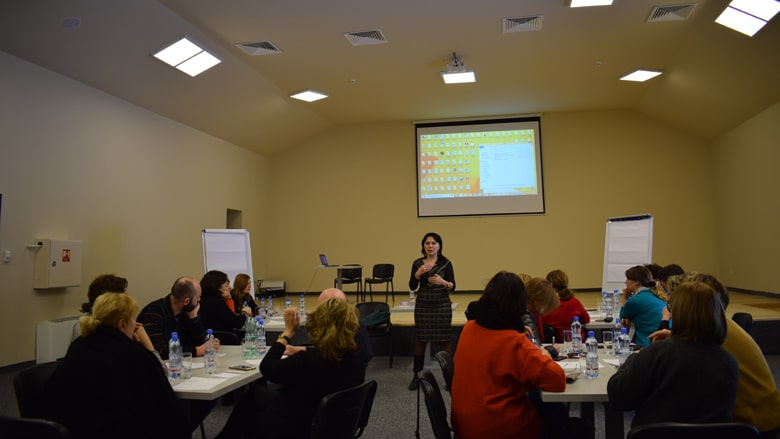 It has been three years already that BGS is conducting two-day seminars for teachers, usually held outside Tbilisi. This time, 2 and 3 March were simultaneously busy and fun. The two-day seminar (trainer-moderator Mrs. Lali Berishvili) was held in the conference hall of "Best Western Sairme Resort" hotel in Sairme; the main topic of the seminar was "From assignments to initiatives" and it covered many interesting and useful topics, such as:
"Importance of project based learning";
"Strategies for using video resources";
"Characteristics of an effective teacher";
"Corporate culture – strengths and weaknesses of our school culture";
Past activities, planned and performed by teachers were analyzed and future plans were made. All agreed that the seminar was presented in a productive and original format.
On the way back to Tbilisi, teachers visited the Prometheus Cave. Such trips are very important for staff professional development and team building, which then leads to a successful school.